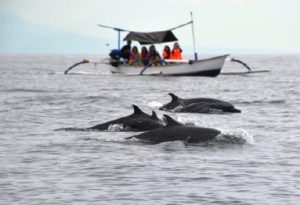 Marine Connection has concern over a recent suggestion in the media by Dewa Suardipa, Chairman of the Buleleng branch of the Indonesian Hotel and Restaurant Association that ocean floating 'sea cages' should be constructed in offshore locations near Lovina, Bali to house captive dolphins. With great natural attractions including stunning beaches and coral reefs, tourists also have the opportunity of going out to see wild dolphins that frequent the area – the Island does not need more dolphins in captivity.
When Mr Suardipa originally expressed concern over possible harassment to the wild dolphin population by boat owners, it was thought he had the well-being of the dolphins at the forefront – however upon further clarification, it's now understood that Mr Suardipa's suggested solution to this problem is to possibly capture some dolphins and hold them offshore for North Bali tourists to interact with. Mr Suardipa is apparently of the belief that dolphins confined in a captive environment are stress free!
It has not been confirmed how many dolphins may be held in captivity but removing dolphins from a wild population has serious consequences for both conservation and the welfare of individual animals. We have contacted Mr Suardipa outlining our concern in relation to his proposed plans and highlighting the damaging effects captivity has on these marine mammals – both physical and physiological.