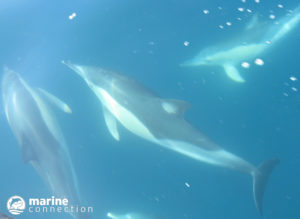 Marine Connection has contacted the Minister for the Environment in Gibraltar following reports that many dolphins in British Gibraltar Territorial Waters (BGTW), are being injured due to a fishing practice known as "popping'- often used by sport fishermen to catch large pelagic fish such blue-fin tuna.  A popper is a fishing lure attached to rod and line. The body is hollow to keep it on the surface of the water and as the fisherman jerk their rod, the lure's concave head throws up bubbles and splashes, similar to a distressed fish to a predator such as the blue-fin tuna.  Recently fishermen targeting this species of tuna in Gibraltar's waters are increasingly casting their braided tight fishing lines into the centre of pods of dolphins in the hope that the fast moving tuna are underneath. When the tight lines are reeled in, they occasionally come into contact with individual dolphins, causing them horrific injuries as there is no stretch in these tight lines, at times the lure becomes caught in the dolphins' dorsal fin causing sections to rip off.
The Cetacean Protocol which was introduced in 2014 as part of the Marine Protection Regulations, state that vessels should maintain a minimum distance of 60 metres from any dolphin (or whale) whilst navigating in BGTW. The Protocol also establishes a 500 metre radius from the animals within which vessels must travel at a constant speed of no more than 4 knots or no greater than the slowest animal in the group – however sport fishermen are clearly not adhereing to the minimum distance or speed regulations. Several species of dolphin use the Gibraltar Bay as feeding and calving grounds and with the tuna fishing season in full swing, we are deeply concerned that many more dolphins may be subjected to these type of injuries. Although dolphins are protected by law in Gibraltar, Marine Connection does not believe that they are being afforded adequate protection.
In a recent statement The Government has stated that the Department's Environmental Protection and Research Unit will be closely monitoring vessel activity over the coming weeks, particularly sports fishermen employing 'popping' techniques. We ask anyone wishing to report any breach of the Protocol to contact the Department's Environmental Protection and Research Unit on (+350) 58009620.