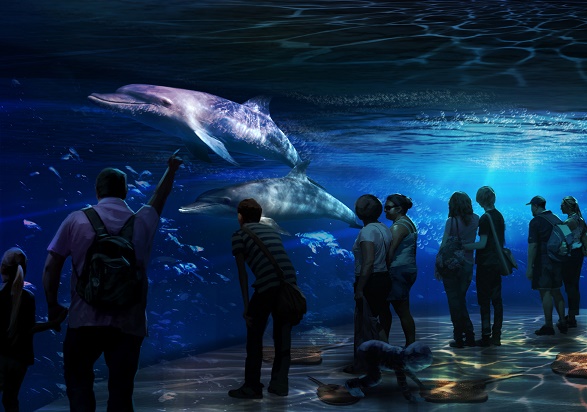 Next month, National Geographic Encounter in New York's Times Square is set to welcome the public into a first-of-its-kind deep sea experience, Ocean Odyssey.
It promises to be a ground-breaking underwater adventure across the Pacific Ocean bringing visitors face-to-face with 20ft sharks, a 50ft humpback whale, Humboldt squids and much more but without a drop of water in sight!   Visitors will listen to sounds of the animals they have encountered along the way and hear from renowned ocean explorers and marine biologists talking about their passion for the ocean through transparent multi-media screens.
Hundreds of underwater sounds from libraries all over the world have been assembled to create a state-of-the-art soundscape and to reinforce the attraction's conservation message, guests can pledge to take action that makes a difference in ocean conservation, and share it on social media.  The attraction opens on October 6, 2017.
Photo Credit: National Geographic Encounter