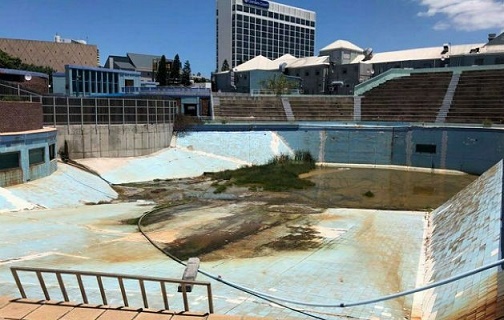 For some years, the Mandela Bay Development Agency (MBDA) has been considering revamp options for Bayworld Oceanarium (formally known as the Port Elizabeth Museum Complex) and deciding whether or not to include captive dolphins in the plans. The Oceanarium currently houses turtles, fur seals and African Blackfooted Penguins.
Latest reports are that MBDA now wants the complex removed from its projects list until the provincial Department of Arts and Culture makes a decision on the facility. The issue appears to be the additional budget required to build a new dolphin tank within the Bayworld complex. The existing tank (pictured here), which formally housed dolphins was built in the 1960s now lies derelict and would have to be demolished. Development manager Dorelle Sapere advised the economic development committee that to consider keeping dolphins would double the cost of the development project.
Dolphin Lake was opened within Bayworld in 1968 with several bottlenose dolphin births occurring over the years including Thunzi in 2000 and Dumisa in 2004. Both animals were relocated to Ocean Park, Hong Kong on a breeding loan in 2009 and although Bayworld still retains ownership of the dolphins, museum education and training manager Sylvia Van Zyl commented that it is unlikely they would be returned.
Photo : Derelict dolphin tank at Bayworld Oceanarium, South Africa