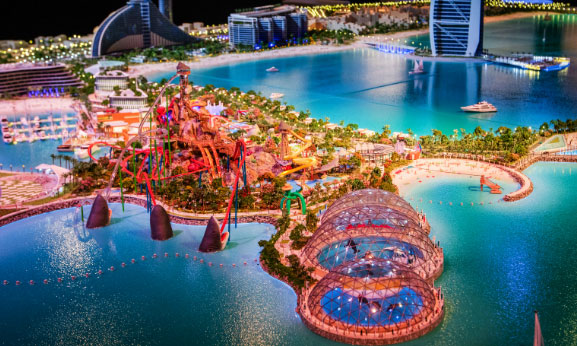 Global investment company Dubai Holding has launched 'Marsa Al Arab', a large project spreading over an area of 4 million sq ft, comprising of two islands on both sides of Burj Al Arab Jumeirah – one of the world's most luxurious hotels. The project will have one island for entertainment and family tourism and will include relocating the already operating Wild Wadi Waterpark closer to the beach. The other island will be an exclusive luxury resort with a shopping centre, three hotels, private yacht marina and food outlets. As part of the project Dubai Holding is also to develop a Marine Park with a 1,000 seat capacity live theatre which will showcase various elements of marine life.
Artwork and model unveiled for the new project show captive orcas on display as part of the marine park's collections. The project scheduled to open in 2020 will coincide with Dubai World Expo – Middle East's first world's fair.
We will update with further news when available.