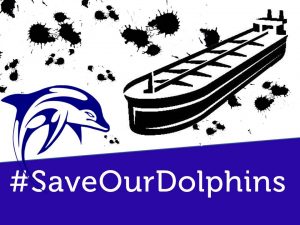 Marine Connection continues to support a vital campaign to stop the planned transfer of up to nine million tonnes of crude oil a year between tankers in an area of sea at the mouth of the Cromarty Firth just into the larger Moray Firth, Scotland – home to a resident population of bottlenose dolphins.  There is considerable concern in the area over these plans, which has resulted in the formulation of local pressure group Cromarty Rising, to help focus endeavours to challenge the application. This week Marine Connection attended a public meeting in Cromarty which included representatives from coastal communities in the area who came together to discuss what further steps can be taken in the event that the application is approved by the Southampton-based Maritime and Coastguard Agency (MCA).
The Cromarty Firth Port Authority (CPFA) licence application would allow them to undertake transfers, each of up to 180,000 tonnes of oil over a 24 hour period. In the event of an oil spill, it would pose a threat to local businesses who rely on this area to make a living and could have a huge impact on tourism. As for the wildlife, it cannot not be assumed that dolphins, seals, porpoises or any other marine mammals would, as claimed by the applicants, simply swim away. During the meeting, Marine biologist, Professor Paul Thompson, the leading dolphin researcher at Aberdeen University's Lighthouse Field Station advised that there is no recognised scientific evidence that this would be the case.
Despite the fact that the area designated for these transfers to take place is reasonably close to shore, within a Special Area of Conservation (SAC) and furthermore that dolphins are protected under the European Habitats Directive, the MCA could, if they choose to, authorise this licence. An announcement is due to be made on October 14, after which we will provide an update.