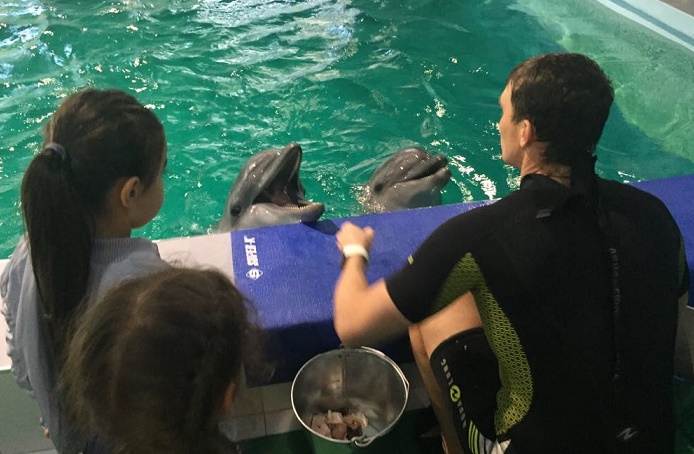 Since we first highlighted the two dolphins being held in a pool in Armenia, we have continued to address this with the Best Western Paradise Hotel and the response so far has been to attempt to distance themselves.  The hotel claims that in no way are they affiliated with those operating Dolphin Therapy Dilijan, stating they were only 'assisting' with marketing until the owners, Star of Sea dolphinarium (who incidentally also operates a similar facility in Sochi, Russia) had the opportunity to establish an office in the vicinity.  They stress the hotel has not been collaborating with them since 1 November.
The management of the hotel is going to some lengths to highlight that the dolphins do not belong to them but to the Sochi company.  When Marine Connection questioned the hotel regarding the dolphin pool being located in the hotel complex, they have said that the part of the building housing the dolphins does not belong to the hotel, even although the hotel outdoor pool is located on the roof of the same building as the dolphin pool.  Furthermore, they commented that this was under a 'separate agreement with the owners' and have confirmed that some of the hotel customers stay there whilst receiving 'therapy' –  therefore they are still in business with the company running the dolphinarium and profit from the dolphins being held there.
Interesting to note that the CITES permit provided to allow the dolphins into Armenia, clearly shows the importer as The Paradise Hotel. When questioned on this issue the head of the Information Division of the State Food Safety Service, Anoush Harutyunyan, stated the dolphins were imported by Delfin Therapy Paradise LLC.  Vahagn Harutyunyan, it is unknown if there is any relation, served as a director at Delfin Therapy Paradise until 24 October this year and now serves as Director of Best Western Paradise Hotel.
Marine Connection has contacted CITES in relation to the conditions of the permit which also state that the dolphins are to be used for 'Travelling Exhibitions & Circus' – so, are the owners now using 'therapy' as a reason for the confinement of these dolphins  in the hope this will be less abhorrent to the public?
Despite their continued denials, Best Western Paradise Hotel, Dilijan:
Are shown on the CITES permit as importers of the dolphins
Has an agreement with the company owning the dolphins to use space located in the same building for their guest pool
Profit from guests staying at the hotel specifically for the dolphin interactions
Has a director who, until October, worked for the company who operates the dolphin facility
Our campaign and investigations continue.
Photo Credit: North Downs Picture Agency