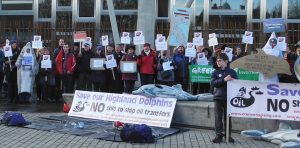 Marine Connection joined the gathering outside Scottish Parliament yesterday, ahead of First Minister's Question Time, to highlight concerns over plans to allow ship-to-ship oil transfers at sea in the Moray Firth area, an area extremely important to the resident wild population of bottlenose dolphins. Highland MSPs Kate Forbes and Gail Ross raised the matter inside chamber on behalf of the group.
Scotland's First Minister, Nicola Sturgeon, made the following statement, "On the basis of the evidence so far the Scottish Government is unconvinced that ship-to-ship oil transfers can or should take place, without causing risk to the environment, particularly to bottlenose dolphins. Finally can I say presiding officer I warmly welcome those who are outside parliament today, some of them may be in parliament, too. Let me assure them the Scottish Government absolutely hears their concerns and will continue to do everything we can to make sure those concerns are heard by those taking the decisions."
Marine Connection and others had invited MSPs to meet and briefly discuss the issue, we were delighted that several came out to speak with campaign supporters. It is vital that the Maritime & Coastguard Agency (MCA) who are based in Southampton and responsible for making decisions on the application, send representation to the Highlands to meet and listen to concerns put forward, explain the decision making role further, and advise when they will take the decision on this application.
Photo Credits: Marine Connection