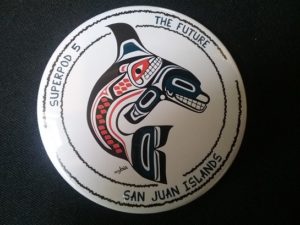 Marine Connection recently attended the annual gathering of Superpod5 on San Juan Island, Washington State. Scientists, NGOs, authors, journalists, former trainers and orca advocates from around the world met to share ideas, network on anti-captivity campaigns and discuss developments to help protect orca in their natural habitat.
Ex-SeaWorld trainer and Blackfish cast member Dr Jeffrey Ventre gave a brief history of Superpod and why it was established, there were various screenings throughout the event including the premier of documentary 'Voiceless' by Blue Freedom who were part of the Scholar Advocacy day. There were numerous presentations/talks which saw Dr Lori Marino giving an update on the whale sanctuary project and the future for captive cetaceans, Dr Naomi Rose discussing the importance of legislation and regulation and how this can differ from country to country. Howard Garrett talked about the plight of Lolita currently held at Miami Seaquarium and why it's time for this orca to be given the opportunity of retirement to a sea pen and there was a very interesting presentation given by ex-US Navy Biologist, Meegan Corcoran, on the potential measures to mitigate harmful effects of sonar. One major concern highlighted at the event was why it is vital for the four lower Snake River dams to be removed, in order to assist in recovering the severely depleted Chinook salmon numbers, vital for the future survival of the Southern Resident orca populations, as these salmon comprise nearly 80 percent of the whales' summer diet.
Another captive orca highlighted at the event was Corky – currently at SeaWorld San Diego, she is the longest held captive orca in history. The campaign to help 'Free Corky' has been running for many years and in 1997, Corky's FREEDOM banner, over a mile long, was taken on a journey throughout Europe, visiting 6 cities in 5 countries including London where it was displayed outside the Anheuser-Busch offices who owned SeaWorld at that time. Marine Connection was involved in helping put together a section of the original UK banner, therefore it was fantastic to see part of the banner displayed in the theatre during Superpod5 and to know that it is still on the move in various locations.   Also seen around town was the Orcamobile, which had travelled from Florida to San Juan specifically to be there for Superpod5, and throughout the week there were some fantastic sightings of orca with J & L pod members seen frequently off Lime Kiln State Park, further out to sea a few humpbacks and even a fin whale were sighted.
Superpod6 will return to San Juan Island in 2018.
Photo Credit: Marine Connection