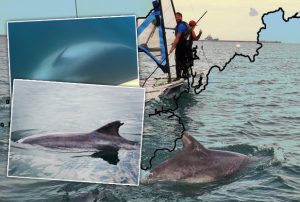 Known for his distinctive dorsal fin, Clet the male bottlenose dolphin hasn't been spotted in UK waters since August last year, after travelling hundreds of miles up and down the coasts of France, England, Ireland and Scotland.
The first dolphin to be tracked across so many regions, his adventures have now been mapped by multiple organisations including Marine Connection in a catalogue of sightings, photographs and behaviour reports to help track Clet's movements. Dolphins are extremely social creatures living in close knit groups, why is it then that some are solitary?
Marine Connection has been investigating the phenomenon of solitary dolphins for many years and actively address issues relating to the protection of solitary wild cetaceans, specifically around the UK shores, and what can be done to offer them greater protection in both the short and long term. The longer Clet is tracked, and the more data we can collect, will all help us have a greater understanding of his movements.
Please contact us to report any confirmed sightings of Clet