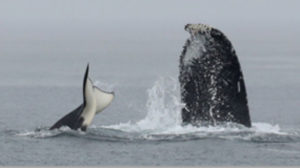 Whale watchers on-board different vessels  caught a rare encounter recently – a clash  between transient orcas and humpback whales. The orca were spotted  taking on two adult humpbacks and a calf in the Salish Sea, and although there were a lot of tail fluke slaps, there were no actual attacks – when more humpback whales appeared, the orca moved on.  Sightings of both species have been on the increase in the area over the past few years, especially the humpbacks who usually travel in groups of two or three, but the latest sightings are unique because they are in groups of up to 20, mirroring conditions that usually occur only off Alaska or Hawaii.   This can possibly be attributed to prey availability and hopefully as more research data becomes available, it may help explain the robust return.
The Salish Sea is the intricate network of coastal waterways that includes the south-western portion of the Canadian province of British Columbia and the north-western portion of the U.S. state of Washington.
Photo Credit : Valerie Shore/Eagle Wing Tours of Victoria, B.C.