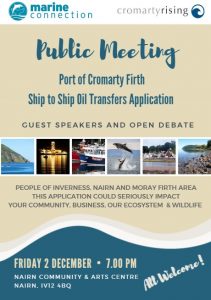 Following our previous news posting on 6 October regarding the campaign to stop the granting of a licence to the Cromarty Firth Port Authority (CFPA) which would allow ship to ship oil transfers from anchorage points off the Sutors of Cromarty in the Cromarty/Moray Firth, Marine Connection has joined with local pressure group Cromarty Rising to host a public meeting to discuss the current situation.
During the initial public consultation period Marine Connection, Cromarty Rising and others submitted letters of concern over these plans.  Because of this the CFPA has been told to review and resubmit their application, however when available, this revised application will be sent to named Consultees only. There are no plans to re-engage the public, furthermore the CFPA has stated they will not consult with or take comment from, residents or communities along the Moray Firth coast.
All are welcome to attend the Public Meeting on Friday 2 December in Nairn Community & Arts Centre, King Street, Nairn at 7.00pm.  For those who do not live in the area, please add your support by signing the petition and help us stop this danger to the dolphins and their habitat.