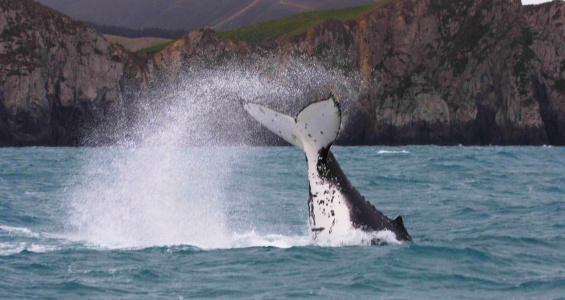 An annual whale survey in Cook Strait which lies between the North and South Islands of New Zealand will not be taking place this year because of a lack of funding.
The survey is usually run by the Department of Conservation, (DOC) and takes place over the months of June and July, however oil and gas exploration company OMV New Zealand who has funded the survey for the past eight years, did not renew the partnership this year as they are awaiting a scientific paper that evaluated the whale survey project.
Past surveys included photographing the underside of the whales' tail flukes and taking DNA samples so they could be identified – a record 137 humpbacks were spotted in the strait in 2015. Results of a DNA test released earlier this year confirmed a white humpback whale seen in Cook Strait last year was the famous Migaloo, which had been seen off eastern Australia almost every year since 1991.It was the first time Migaloo had been seen in New Zealand waters.
The survey has been running for 12 years and initially funded entirely by DOC, lasting two weeks, but the funding provided by OMV allowed it to be extended to four weeks. Missing this year's survey will not have much impact on the data collected on the whales DOC have said but they hope to find a new partner for 2017.
Photo Credit: DOC/NZ