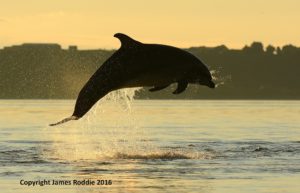 The friendly team from LUSH visited the Marine Connection office in the Moray Firth, Scotland on a sunny day in July to meet our founders, Margaux Dodds and Liz Sandeman. This short film about the work of Marine Connection was shot along the shore at Chanonry Point and the camera crew chose a great time to visit, as we had some magnificent appearances from the resident bottlenose dolphin population.
These dolphins who frequent the Moray Firth coastline, help to demonstrate just how incomparable the lives of captive and wild dolphins are. Sadly for cetaceans in captivity, life is very different. Devoid of freedom and confined within tiny, barren concrete tanks, captive dolphins and whales are unable to carry out normal behaviours such as using their sonar effectively, hunting for food, or forming important social, usually lifelong, bonds.   Although public perceptions are changing towards dolphinariums/marine parks, there is still much work to be done. Our mission is to help put an end to keeping cetaceans in captivity, and we are very grateful to LUSH for allowing us this platform to tell the world why every dolphin, whale and porpoise deserves a life of freedom.
Watch the film to hear what motivates our work – includes footage of wild dolphins in the Moray Firth
Please share with friends and family and help us spread the message that dolphins and whales belong in the ocean, not confined to a tank.
Photo Credit: James Roddie