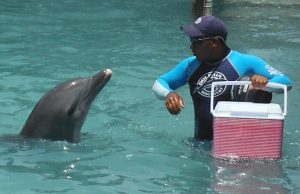 St Lucia appears to be the latest target for a proposed new captive dolphin facility.  Dolphin Discovery, who already operate 10 dolphin parks in the Caribbean alone, wish to build at Pigeon Island, a 44-acre islet located in Gros Islet in the northern region of the island.
The area was designated as a National Park in 1979 and as a National Landmark in 1992 by the Government of Saint Lucia.  We firmly believe that the application put forward by Dolphin Discovery to establish a facility here should be denied, and it should remain a place where families can enjoy the outdoors is a safe environment. The St Lucia National Trust describe Pigeon Island as 'a living museum within a natural setting which is being nurtured through careful protection and intelligent development to serve the intellectual, cultural and recreational needs of all who visit this historic site.'   A captive dolphin facility would not contribute in any way to these aims and would damage the unspoilt, natural environment and reputation of St Lucia as a holiday destination, where dolphins can be seen in the wild.
Please help stop this!