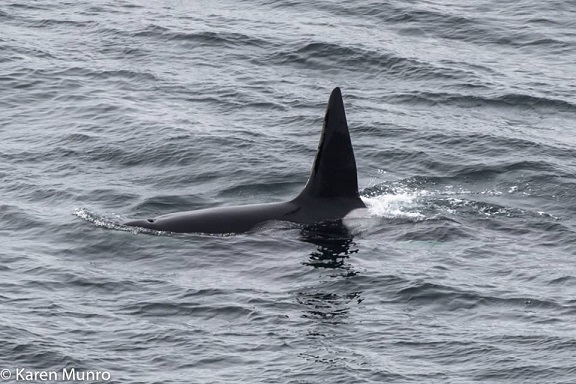 Marine Connection is once again participating in the annual Orca Watch week at Duncansby Head, located on the most north-easterly part of the Scottish mainland.  At this time of year the whales move between Iceland and Scotland, and NGOs, scientists plus dedicated whale watchers all flock to the headland, the main watch site throughout the week, in the hope of sighting one or two of these majestic mammals.
On Sunday 21 May a superb sighting of four orcas was recorded very close to shore at Duncansby. One bull orca was identified as the 'Hulk', an individual well known to researchers.  Marine Connections' Liz Sandeman comments; "Even when the whales are not sighted, it is a pleasure to enjoy the friendly atmosphere at Duncansby Head.  With plenty discussion taking place about dolphins and whales there is always something new to discuss.  I am delighted to have the opportunity to take part in the orca survey once again, and so far this year have not been disappointed with sightings."
The week long event is run in conjunction with Sea Watch Foundation and is now in its' 6th year. Throughout the week vital data is collected which hopefully will enable those studying the population both in Iceland and Scotland to compare details and record movements of the animals.
(Thanks to Karen Munro for use of image).