Marine Connection believes that no dolphin or whale should be taken from the wild or bred in captivity.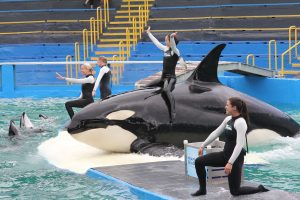 Each year, many people visit dolphinaria and marine parks because of a love for dolphins and whales, buying a ticket to see them perform – but at what cost to the animals? Life for captive cetaceans may appear harmless and the shows exciting, however in reality it is a different story. These facilities only exist to provide public entertainment and generate profit with little or no emphasis on education about, or conservation of, the species on display.
Even the largest tank is only a tiny fraction of the size of the natural home ranges these marine mammals have in the wild. Life for captive dolphins and whales bears no comparison to the lives of their wild counterparts in the ocean who, each day spend 10-20% of their time at the surface, in captivity this increases to at least 70%. In a tank, they are restricted by walls, unable to travel at speed or depth for any distance and are denied everything that is natural and important to them. A captive environment cannot provide adequate stimulation for these social, intelligent, large brained, complex marine mammals which, in the wild, would live in inter-related family social groups.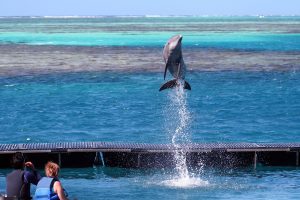 Dolphins and whales are top predators. Wide ranging carnivores such as wild orcas for example, can travel up to 100km per day, foraging and socialising. If this natural behaviour is denied, as it is in captivity, can lead to stereotypical behaviours, aggression, stress and injury, sometimes even death. In captivity, dolphins and whales perform unnatural behaviours for food reward and drugs are routinely used by the industry to control anxiety, behaviour and loss of appetite. Contrary to what these facilities promote, they are not self-sustaining. Mortality rates and stress-related causes of death in captive whales and dolphins is high, some animals have never produced a calf and those that are born, often do not survive. This is why dolphins and whales continue to be captured from the wild today – to stock both existing, and new, facilities.
Leading scientists/marine biologists have issued a statement opposing the keeping of cetaceans in captivity; which can be read here.